7 DAY -FULL ACCESS- TRIAL AVAILABLE!
Always do your DUE DILIGENCE to succeed!
*Stay patient when Day-Trading! Take profits when present!*
---
· $AEMD
FLOAT=7.6M
AVG DAILY VOL=249k


Had a great pop today. Called by @Kleimax in chat this morning at 11am near the low on day. T
o the upside, WATCH FOR BREAK OF $1.75 RESISTANCE 50SMA-->$2.00 PT
Daytrade only most likely will get shutdown tomorrow premarket by market makers trapping anyone who bought end of day and chased, $1.50 potential dip buy under that I'd avoid it imo - trades terrible because of micro float..if somehow on a Friday this happens to gap up and over $2 the price target is $2.25 - must have increasing volume to do anything
---
·$HMNY
FLOAT=3.3M 
AVG DAILY VOL=1.75M

Nice daily chart with the average volume now up to 1.75Mil over half the float HAHA during this pump and dump ridiculousness. To the upside

WATCH FOR BREAK OF $11,15

-->$12 PT, 10.50 support, 10 support DT only -trades terrible dont get stuck in this scam

---
· $AMMA
FLOAT=13M
AVG DAILY VOL= 820k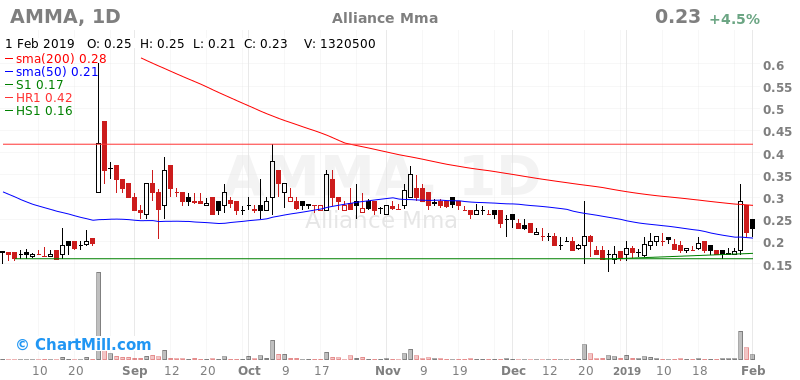 Nice day today popped at the open and then looked like it was dead. Micro small float and thats what happens when volume can come in. Exploded $3+. T
o the upside
WATCH FOR BREAK OF $2.50
-->
$2.75 PT $3.00 PT2, chances are this tests $2.00 as support ($2.07 200SMA) unless volume comes in again this one is most likely one and done
---
· $CATB
FLOAT=52M  
AVG DAILY VOL=500k

This chart looks good here. This is on its way to golden cross in the next 45 trading sessions. $2.00 Strong support and an area to start a long swing trade is between 1.80-1.90/2ish. For a DT To the upside
WATCH FOR BREAK OF $2.25-
-> $2.50 PT Most likely will flag sideways into next week until the next leg up.
Nice volume pop today if that volume increases tomorrow it can move higher
---
· $ATOS
FLOAT=26M  
AVG DAILY VOL=142k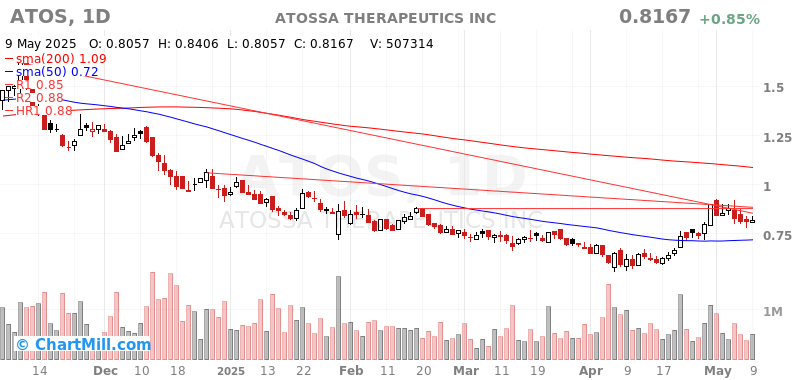 Previous runner. Fell all the way back to the 50sma after that pre news conference scam they pulled on Sept13th. Nice bounce off support because finally had volume come back. A nice alert here the opening 30minutes at .49 and out at .53 in minutes.
To the upside WATCH FOR BREAK OF $0.55-->
$0.60 PT clear 0.60 PT becomes 0.65, over .65 it can really move to 0.75+
---
Possible "Proper Setup" Tickers
· $AXAS
· $AGRX
· $ITEK
· $REXX
· $ITUS
· $SPI
· $IZEA
· $HMNY
· $IPCI

---
Swing Trade WL
· $GRPN - OPEN SWING POSITION
· $APRN - OPEN SWING POSITION
· $MEET
· $TRV
· $OTIC
· $BW
· $OMNT
· $SGMO
· $XXII

*LIKE WHAT YOU HAVE READ?!
Please "LIKE" and "RETWEET" for a chance to win TEAM PTTTTP Merchandise!*

Not currently a team member? Please give our chat room community a try and see if it is right for you! We offer a 7 day trial and I look forward to the opportunity to mentor you. Do not hesitate to email us at TeamPTTTTP@gmail.com anytime with any questions.
PT
=PRICE TARGET l
SMA
=SIMPLE MOVING AVERAGE
l RES=RESISTANCE l IMO=IN MY OPINION
VOL=VOLUME l DT=DAYTRADE
l
WATCH FOR BREAK
=KEY PRICE LEVEL/PIVOT POINT