7 DAY -FULL ACCESS- TRIAL AVAILABLE!
Always do your DUE DILIGENCE to succeed!
*Stay patient when Day-Trading! Take profits when present!*
---
· $INPX
FLOAT=9M
AVG DAILY VOL=628k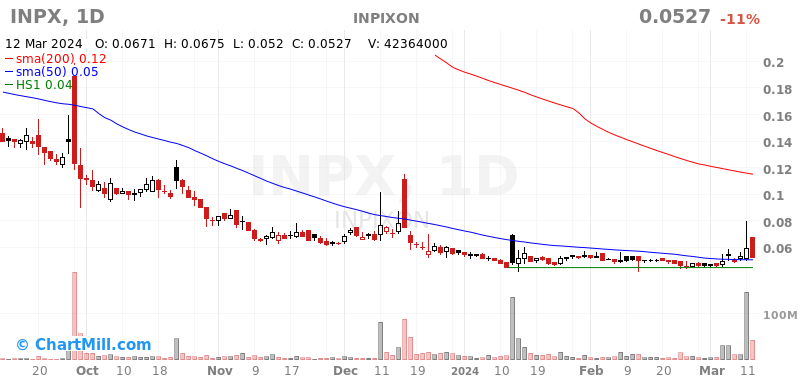 Had a great alert here Monday power hour and did as we predicted into today. Was very volatile at the open-nearly bought at 0.39 dip but this one trades very tough on level 2 and is hard to read at times so I held off. Reached all price targets today but that resistance at 0.50 is very strong (was old strong support) now stubborn resistance. If 0.50 can hold once broken and closed above this has more potential to see a 3-5 day run the rest of the week. DT ONLY T
o the upside, WATCH FOR BREAK OF $0.50-
->$0.57 PT, clear 0.57 this goes to 0.60 then 0.65 - 0.70 **THIS TRADED 2.5xthe float+ today and didnt even see +100% gain (traded 13mil yesterday 30mil today+) this is a SIGN OF DILUTION IMO**
having traded 3 times the float and not running 100% is suspect - could see an offering possibly at the end of this run.... regardless does have a very nice gap above, if this can break 0.57 tomorrow and then 0.60 this could potentially run towards $1 - does have that nice huge gap to $1.50 that needs to fill so never know how high they take the PUMP before the DUMP - just dont get caught!
---
·$MARA
FLOAT=19M 
AVG DAILY VOL=2.5M

Nice daily chart. Stock trades terrible and so slow without volume. Then when it gets sudden volume it trades randomly and is volatile with a large bid ask spread. Best to buy resistance level breaks with a tight stop or support levels for a swing and sell into the pops. To the upside

WATCH FOR BREAK OF $0.50

-->$0.55 PT1 over .55 this really opens up 0.60+ PT

---
· $NETE
FLOAT=13M
AVG DAILY VOL= 820k
Nice day today. Nice daily chart but alot of ups and downs-most likely back down to 0.80 support imo soon. Small float and only trades nice with volume. I do like the weekly chart here. T
o the upside
WATCH FOR BREAK OF $0.95
-->
$1PT over $1 this could really get moving $1.10 PT then $1.25 ...this may turn out to be a decent swing trade with an entry down near 0.80 or 0.70 200SMA as the 50sma starts curling up and catches up to the current price. The weekly chart shows $1.50 is possible once $1 is broken and has RSI of only 67 currently
---
· $AXAS
FLOAT=155M  
AVG DAILY VOL=1M

This chart looks good approaching proper setup top line resistance breakout levels. More of a swing trade but could give another day to the upside tomm- To the upside
WATCH FOR BREAK OF $2.10-
-> $2.30 PT
needs more increasing volume
---
· $GALT
FLOAT=26M  
AVG DAILY VOL=142k
Nice daily chart-made a nice move off the 50sma on 3 days of increasing volume; if this can catch a bigger volume increase tomorrow it has a great chance to breakout to $2.50.
To the upside WATCH FOR BREAK OF $2.35-->
$2.50 PT clear that to test $2.75-3
---
Possible "Proper Setup" Tickers
· $AXAS
· $AGRX
· $IGC
· $ATOS
· $PGH
· $SPWR
· $OPK
· $DRNA
· $ITEK
· $RADA
· $PTN
· $PGH
· $ITUS
· $CBIO
· $NETE
· $EKSO
· $SPI
· $IZEA
· $HMNY
· $IPCI

---
Swing Trade WL
· $GRPN - OPEN SWING POSITION
· $APRN - OPEN SWING POSITION
· $MEET
· $TRV
· $EKSO *STRONG WATCH HERE could breakout over $1.35
· $ARWR
· $ADAP
· $OTIC
· $BW
· $IPAS
· $VSAR
· $SGMO
· $XXII

*LIKE WHAT YOU HAVE READ?!
Please "LIKE" and "RETWEET" for a chance to win TEAM PTTTTP Merchandise!*

Not currently a team member? Please give our chat room community a try and see if it is right for you! We offer a 7 day trial and I look forward to the opportunity to mentor you. Do not hesitate to email us at TeamPTTTTP@gmail.com anytime with any questions.
PT
=PRICE TARGET l
SMA
=SIMPLE MOVING AVERAGE
l RES=RESISTANCE l IMO=IN MY OPINION
VOL=VOLUME l DT=DAYTRADE
l
WATCH FOR BREAK
=KEY PRICE LEVEL/PIVOT POINT