7 DAY -FULL ACCESS- TRIAL AVAILABLE!
Always do your DUE DILIGENCE to succeed!
*Stay patient when Day-Trading! Take profits when present!*
---
· $ITUS
FLOAT=14M
AVG DAILY VOL=228k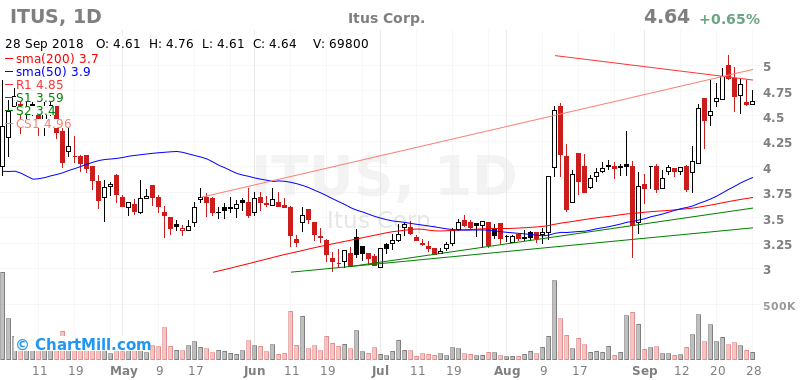 Fantastic day yesterday followed by a quiet inside green day today. I am only watching this one for a continuation move higher on day 3 tomorrow. T
o the upside, WATCH FOR BREAK OF $2.00-
->$2.25 PT but
Clear $2.25 with big volume the 200SMA $2.54 is possible tomorrow with the small float and if big volume comes in, supports: 1.90,1.80, 1.70, 1.60, 1.50
---
·$CAPR
FLOAT=11M 
AVG DAILY VOL=1.3M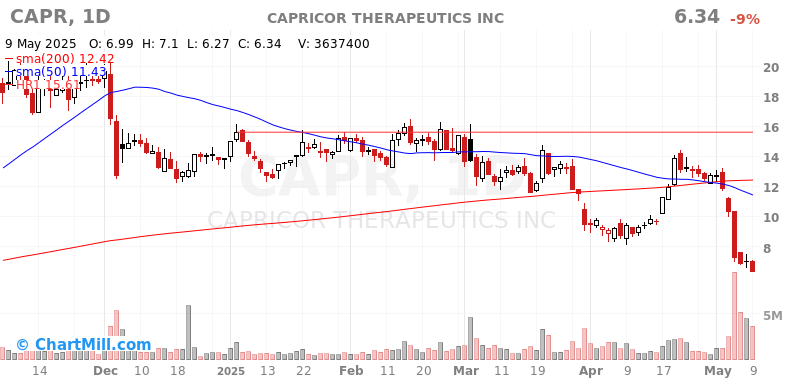 Nice day today mentioned 15 minutes prior to the opening bell in chat as a STRONG WATCH for $1.60 break which was a buy. Also ALERTED in chat at $1.60 entry with $1.80 PT which nearly hit in minutes. Explosive short squeeze for this small float as it pressed higher in the gap zone to nearly $2.50. Most likely I will not touch this one any longer even though the gap can fill higher but regardless costs nothing to keep on a chart, RSI very high and needs massive volume to continue tomorrow for this to go higher again, To the upside

WATCH FOR BREAK OF $2.40

-->$2.55-2.60 PT DT ONLY Break 2.75 and $3.00 PT

---
· $EBIO
FLOAT=20M
AVG DAILY VOL= 137k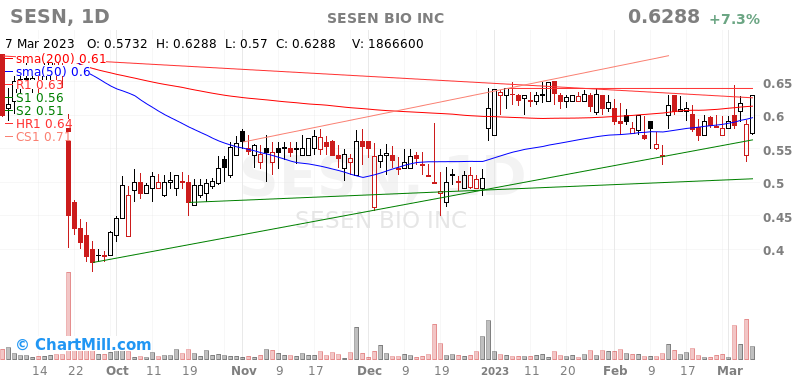 Nice day today- broke above the 200sma but closed weak and gave back its gains. I like this daily chart and is a potential swing trade. Mentioned this several times as a potential buy days ago when it was at 50sma support at $1.40 and it was "due for a bounce". Nice pop today. Trades slower but can move with volume.
To the upside
WATCH FOR BREAK OF $1.70
-->
$1.84 PT Over 1.84 this can move to $2.00 PT - this may consolidate again and stay rangebound sideways between the 50sma and 200sma also where a support entry for a swing trade may be taken
---
· $HMNY
FLOAT=3.3M  
AVG DAILY VOL=576k

Crazy day today. $4 break was the "late" buy signal then this just short squeezed higher and higher. Float is micro small so when volume comes in this moves on air. Not a strong close but held up nicely. About to daily cross on daily chart. Needs to consolidate and let the SMA's catch up to the price but still want to watch this tomorrow.
To the upside
WATCH FOR BREAK OF $6
--> $6.50 PT
DT only - most likely falls to supports at $5.50, $5.00, $4.50 in the coming week
---
· $GLYC
FLOAT=31M  
AVG DAILY VOL=470k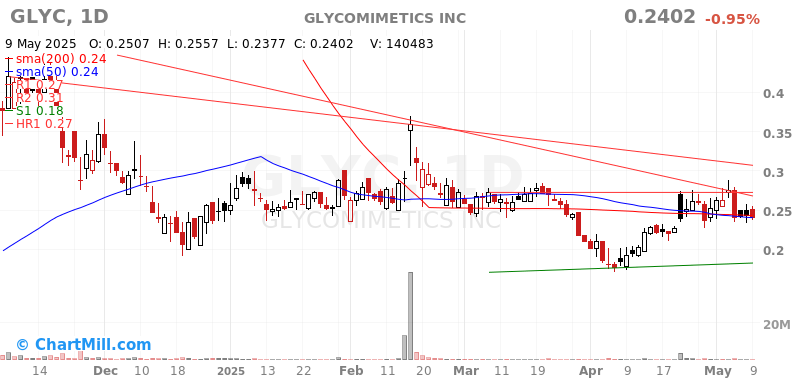 Great chart here. More of a swing trade. When big volume comes in this can move. Since this already recently moved big we must be careful about entering way up here near resistance but
To the upside WATCH FOR BREAK OF $14.69-->
$15.00 PT Clear $15 and the PTs are $15.50, $16, $17+
---
Possible "Proper Setup" Tickers
· $ALRT - OTC pennystock - watch for break of 0.15 PT 0.20 **HIGH RISK** use caution
· $BPMX
· $BLDP
· $IGC
· $ATOS
· $IMUC
· $AMRS
· $FALC
· $IDXG
· $PULM
· $MARA

---
Swing Trade WL
· $GRPN - OPEN SWING POSITION - PATIENCE REQUIRED - sold half +13%
· $MEET - OPEN SWING POSITION - PATIENCE REQUIRED
· $TRV
· $VERI
· $ARWR
· $ADAP
· $WATT
· $OTIC
· $BW
· $IPAS
· $MNKD
· $SGMO
· $XXII

*LIKE WHAT YOU HAVE READ?!
Please "LIKE" and "RETWEET" for a chance to win TEAM PTTTTP Merchandise!*

Not currently a team member? Please give our chat room community a try and see if it is right for you! We offer a 7 day trial and I look forward to the opportunity to mentor you. Do not hesitate to email us at TeamPTTTTP@gmail.com anytime with any questions.
PT
=PRICE TARGET l
SMA
=SIMPLE MOVING AVERAGE
l RES=RESISTANCE l IMO=IN MY OPINION
VOL=VOLUME l DT=DAYTRADE
l
WATCH FOR BREAK
=KEY PRICE LEVEL/PIVOT POINT